Description
Galaxy MB-6800 Halogen Moisture Balance is a smart device that is used to test moisture percentage in samples on Loss on Drying (LOD) method. The weighing system is load cell based & heating is done using a halogen lamp. Heating & weighing operation works in a synchronized way which results in automatic calculation & display of various values such as Moisture %, Sample Weight, Dry Weight, Regain.

Different forms of samples can be measured:
• Most samples which vaporize only moisture and cause no hazardous reaction under heating can be measured
Various materials can be measured:
• Cereal, starch, flour, meat, dair products, soil, ore, chemicals, paper, pulp, cotton, paper, plastic, fibers, chemicals, pharma
Mb6800's halogen heating system distributes heat uniformly over the sample and speeds up the
drying process — delivering fast and precise measurements. Designed for tool-free cleaning, components
can be easily removed for quick and easy maintenance. Operating the MB6800 is intuitive with the
icon-driven menu navigation on the touchscreen display.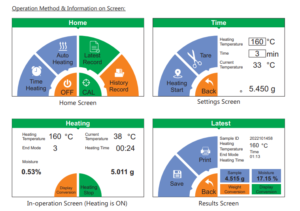 In the result screen, "Sample box" shows the final weight after drying, to see the starting weigh before
drying click on the weight conversion button.
By clicking on the display conversion we can see the solid weight, wet weight.